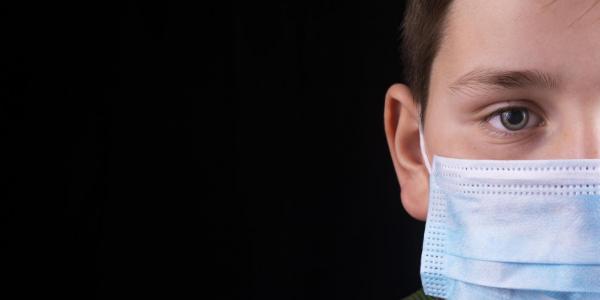 updated advice for Omicron variant
Schools have been urged to reintroduce masks in common areas for staff and students in grade seven and above due to concerns over the Omicron variant of Covid.
The new recommendation arrived in an email sent to Chiefs today following a national government press conference on the new variant on Saturday.
The ministry said the recommendation applies to all schools from tomorrow.
Updated school guidelines for Omicron Covid variant
The DfE email says: "Face coverings are to be worn in common areas of all venues by staff, visitors, and grade 7 and up pupils or students, unless exempted.
"Pupils or students (in grade 7 or above) should continue to wear face coverings in public and dedicated school transport, unless exempted. "
The email adds that the department has discussed this update with the Association of School and College Leaders, the NAHT Heads Union and the Confederation of School Trusts and decided that it would be "useful to publish today rather than wait until Monday ".
The email to school leaders was not clear when the recommendation would go into effect, but a later statement from the DfE said it was asking schools to wear face coverings in common areas from tomorrow.
Insulation for the Omicron variant
The email from the DfE also tells schools that current guidelines on contact tracing and isolation remain in place. But adds that in addition to these, any suspected or confirmed close contact of people with the Omicron variant will be asked to self-isolate for 10 days, regardless of their vaccination status or age.
The news comes as the government announced that the mandatory wearing of masks will return to shops and public transport on Tuesday.
Health Secretary Sajid Javid announced it as a third case of the Omicron variant of the coronavirus was detected in the UK.
---
Read more
Covid and schools: Virus cases on the rise in all age groups of students
2022: Warning of a potential increase in Covid in schools next year
Exclusive: "No data" on the contact tracing of the Covid school
---
In a statement released this evening, Education Secretary Nadhim Zahawi said: "The news of a new variant – the so-called Omicron variant will naturally have raised concerns among people across the country, including our teachers. , education and child care staff, parents, pupils and students.
"We are already taking targeted and proportionate precautionary measures while we get more information about the new variant.
"In doing so, we will continue to prioritize the education and well-being of children and youth, ensuring that education and childcare facilities are as safe as possible and that children continue to benefit from classroom instruction.
"We are working with educational and childcare institutions to strengthen security measures where necessary, including introducing 10-day isolation for close contacts of suspected Omicron cases."
Red list for travel abroad
The DfE email also advised schools whether or not to consider going ahead with international visits.
He adds: "People arriving in England from Red List countries must follow the Red List rules.
"South Africa, Botswana, Eswatini, Lesotho, Namibia and Zimbabwe were put on the red list at 12 noon on Friday 26 November.
"Angola, Malawi, Mozambique and Zambia were added to the red list at 4 am Sunday, November 28.
"Schools, extracurricular institutions and colleges will want to consider whether to go ahead with the international educational visits planned at this point, recognizing the risk of educational disruption resulting from the need for self-isolation. and to test on his return to the UK. "
Your revealed on Friday that the government was asking high schools to carry out on-site tests of students in January at the start of the school year to fight the spread of the Covid and had given them less than three days notice to order the kits they needed.
More support needed for Covid response in schools
Reacting to today's update, ASCL General Secretary Geoff Barton said: "We support these measures as a judicious response to the risks posed by the Omicron variant of Covid-19. This worrying situation, however, emphasizes the need for better government support for the education sector. "
He added that the The Omicron variant risked increasing absences from schools.
"It is therefore imperative that the government provide workforce funding to schools and colleges to help cover the costs of providing absent staff," he said.
Prime Minister Boris Johnson announced new general measures in response to the Omicron variant yesterday at a press conference. You can watch it below.