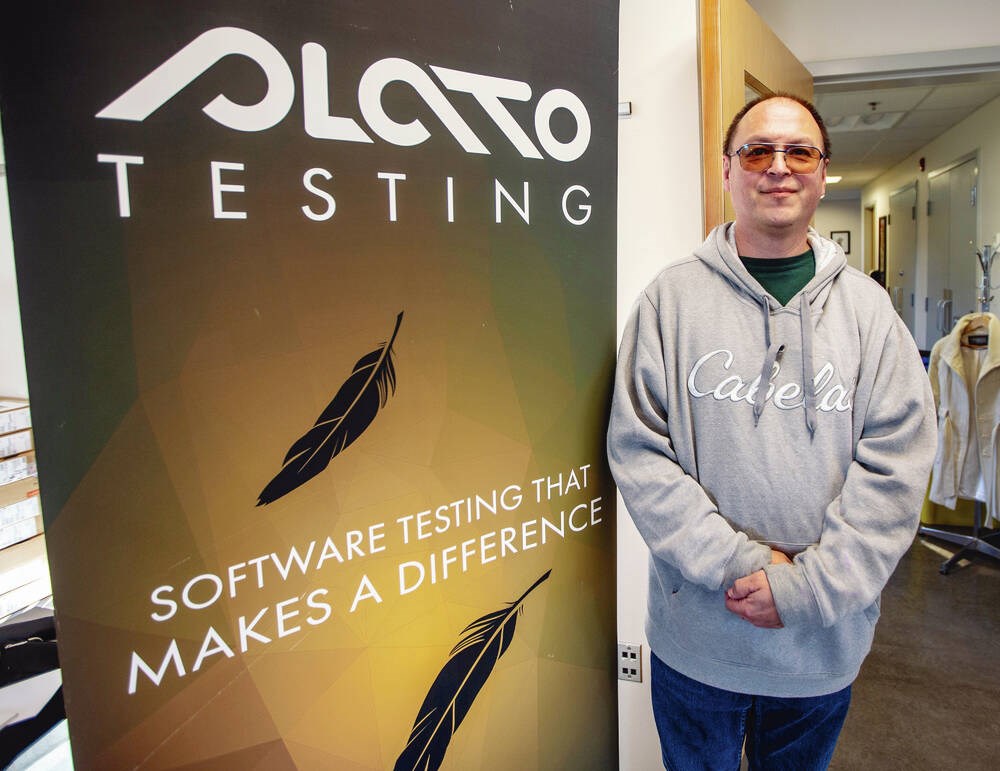 Training program offers Indigenous students a path to the tech sector
The company's goal is to fill the gaps in the technology sector while giving First Nations and Métis people a chance to develop new skills and forge new career paths.
A New Brunswick-based company that trains Indigenous students to be software testers has landed in Victoria, hoping to match those looking to enter the workforce with a tech sector that has a growing need for workers.
Plato Testing, a six-year-old information technology company, has been running training sessions for Indigenous students across Canada since 2015, but only recently landed in the Capital Region, operating out of Camosun Coastal Center on Songhees First Nation lands.
Founder Keith McIntosh said the goal is to fill the gap in the tech sector, which has thousands of openings at all levels across Canada, while giving First Nations and Métis people a chance to develop new skills and forge new career paths.
"I run a tech company and my biggest problem is that I can't get enough people to work," he said. "I need people, and there are people who need an opportunity."
Victoria's course currently has 11 students, but McIntosh said they have room for four more and there is time for interested students of all ages to enroll.
McIntosh has said for years that Indigenous peoples have been overlooked and under-represented in many sectors, including technology, and he saw an opportunity to do something about it.
He said the training course was designed to remove barriers to entry – there is no cost to the student, it lasts five months so they can see the light at the end of the training tunnel and it is portable so classes can be held in First Nations' communities.
McIntosh said the company will hire anyone who passes the course, which means students who pass the course and complete the internship program end up with a certified training course under their belt and work experience for their curriculum. vitae.
"It opens doors," McIntosh said, noting that he would prefer them to stay and grow with his business, but they are free to explore what is available in the industry.
For Songhees First Nation member Wayne Hunt, the course is a chance to work in an area he is passionate about.
After years of working in construction, then a short time in the cannabis industry, Hunt said he wanted to work with computers.
"It gave me a chance to expand my repertoire," Hunt said. "They offer the opportunity to take a job with Plato himself or you can decide to continue with other companies they partner with. How many internships offer this kind of incentive? "
Hunt says his main goal is to complete the course and start working with Plato, testing software.
McIntosh said students are trained in critical thinking, problem solving, and communication skills, and shown how to test new software products to make sure they perform as intended.
Another student, a 40-year-old Métis who requested anonymity, said Plato's corporate values, focus on Indigenous peoples and guaranteed employment were a key motivation for s 'register for the course.
"I'm grateful for the opportunity," she said, noting that she understands the need for people to get involved in the tech industry as it develops. "I saw the opportunity and I am delighted that my people and First Nations are able to fill this need and do this kind of work.
Since the training program launched in 2015, McIntosh said about 225 students have taken the course. Before the pandemic, 90 were still working with Plato, he said.
That number has dropped to about 50 in offices in Indigenous communities or near Fredericton, Miramichi, Sault Ste Marie, Toronto, Calgary, Edmonton and Vancouver.
For more information on the program: platotesting.com/victoria-bc.