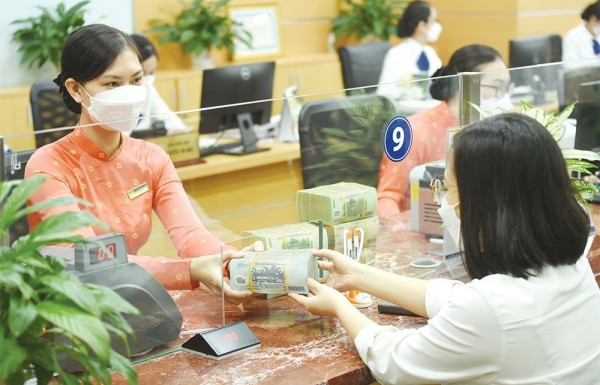 Lenders look further for recruitment
According to a new report, Vietnam is experiencing a shortage of domestic employees in mid-level and senior management positions, so it is looking to recruit from abroad.
Navigos Group's report on the recruitment demand for mid-level and senior personnel in Vietnam in the second quarter of 2022 indicates that there is a lack of Vietnamese candidates for jobs requiring in-depth expertise. The report takes the banking industry as a prime example, examining the continued demand for digital banking and risk management.
The recruitment market in this field is increasingly heating up with a series of joint-stock commercial banks, especially the big four of Agribank, BIDV, VietinBank and Vietcombank, continuously recruiting in extremely high numbers. The first half of 2022 saw a 20% increase in job openings compared to the same period in 2021.
The banking sector has been engaged in a race for digital transformation in recent years to keep pace with international practices. This has led to a high demand for recruitment in the fields of IT, data and solution architecture.
According to a report on the IT HR market in Vietnam in 2021 by TopDev, the country has been experiencing a shortage of IT HR for the past five years. In 2021, Vietnam needed 450,000 IT professionals, while the total number of programmers was 430,000, which means that 20,000 positions could not be filled.
This shortfall stems from the mismatch between programmer qualifications and actual business requirements. The report estimated that only about 30% of students majoring in computer science had the skills and requirements needed for business. This pushes financial institutions to look abroad.
In July, Techcombank organized a foreign talent tour to Singapore and London. It was the first time that a Vietnamese bank conducted an international recruitment campaign targeting Vietnamese talent living and working abroad.
Explaining the choice, a Techcombank representative said, "Candidates joining Techcombank from these markets, in addition to decent compensation, will benefit from the best conditions to develop the international experiences available, thus contributing to the growth of Techcombank and the Vietnamese banking sector".
The campaign was considered a success for Techcombank, as overseas candidates showed sufficient interest.
After this campaign, Techcombank plans to expand its search for international human resources to other markets. In 2021, the bank recruited around 4,300 new employees, including 700 in the technology, digital and data sectors. With the bank's current digital transformation strategy, these numbers are expected to almost double in the near future.
Similarly, MB Bank and the Association of Vietnamese Youth and Students in the United States (AVSPUS) established a collaboration in August for the bank to recruit Vietnamese talent to the United States.
MB also plans to collaborate with other organizations to coordinate and jointly sponsor events, seminars, knowledge sharing, skills exchange and provide AVSPUS with the bank's financial services.
"This collaboration opens up new horizons for both parties," said MB Board Member Le Xuan Vu. "With a global ambition, MB is confident to support AVSPUS in providing first-rate, world-class services to the young Vietnamese population in the United States. The bank aspires to cement its position by aggressively deploying talent and building a strong and strong future workforce through this partnership. »
Doan Thi Minh Phuong, a representative of AVSPUS, also expressed his excitement for the possibilities the partnership would bring.
"For the first time, we have witnessed cooperation between a joint-stock commercial bank here and an association in a foreign country," Phuong said. "This not only demonstrates MB's enthusiasm for foreign talent and the Vietnamese community, but is also a significant step forward in promoting the bank's brand in developed markets like the United States."
The domestic market is also seeing a surge of international students returning home after graduation. Elena Nguyen, human resources manager at a financial consulting firm in Hanoi, said that over the past few years the company had received many applications from returning international students for a wide range of positions.
"Many foreign-funded groups are willing to pay high salaries to students studying abroad, as well as attractive promotion opportunities, because these students have a wide range of knowledge and broad perspectives. Compared to overseas employment, Vietnam's offers are sometimes even more attractive," she said.
Source: VIR