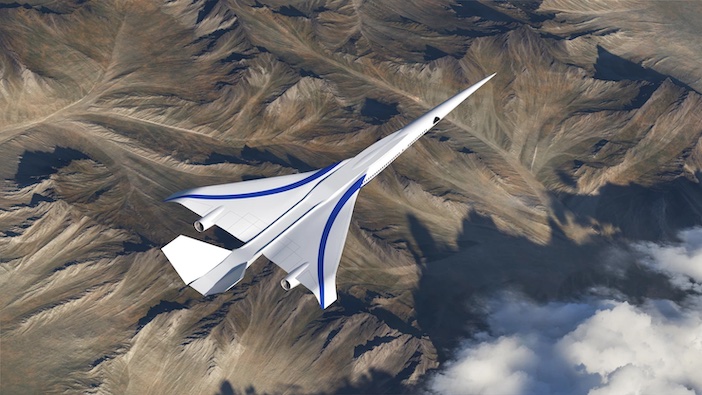 Exosonic Updates Silent Supersonic Airliner Concept
Silent supersonic jetliner developer Exosonic has revealed several design changes to its aircraft in an updated concept drawing and video.
') } // –>
Key differences in Exosonic's latest aircraft design include the use of more and smaller engines to allow it to better meet takeoff/landing noise restrictions and an efficiency-improving wing design. The shape of the fuselage was also changed to further reduce the noise emitted by its sonic booms.
The images were released after the aircraft's first Concept Design Review (CoDR), a four-hour technical review presented to the US Air Force. Exosonic's silent airliner design is being developed for the US Air Force under contract under the AFWERX research program.
During the design review, Exosonic described several aircraft subsystems and disciplines, ranging from aerodynamic performance, low boom characteristics, and structural layout. Feedback from the review is incorporated into the development of the airliner, from the conceptual phase through a more detailed preliminary design phase.
Meanwhile, Exosonic is also making progress in the design of a low-boom supersonic unmanned aerial vehicle (UAV) demonstrator for the US Air Force, which was awarded the contract in October last year. The UAV will be used mainly for the pilot training, although other applications are under consideration.
The drone will be roughly the same size as a fighter jet and will use COTS engines. Technologies relevant to the silent supersonic airliner will be demonstrated in the drone, which Exosonic plans to fly for the first time in 2025.
Norris Tie, co-founder and CEO of Exosonic, said: "These drones not only meet customer demands for affordable air combat training solutions, but also help Exosonic de-risk its aircraft design, manufacturing and sustainment capabilities – all of which are important. for future supersonic aircraft solutions."
In addition to their work with the US Air Force, Exosonic recently raised $4 million, with which they plan to employ more staff and establish an office.
Tie said: "We are delighted to have our new investors on board. Their support validates Exosonic's differentiated approach of developing supersonic drones as a stepping stone to the commercial supersonic airliner.
Lt. Col. Joshua Burger, Director of the U.S. Air Force Vector Initiative, said, "Exosonic's seed fundraising is a statement of confidence from private sector investors. The Air Force has enduring mission requirements in the areas of transportation, mobility, and executive training.
"It is clear that Mr. Tie understands that creating synergy between the two potential clients of government and commerce could propel his company to realize its vision."