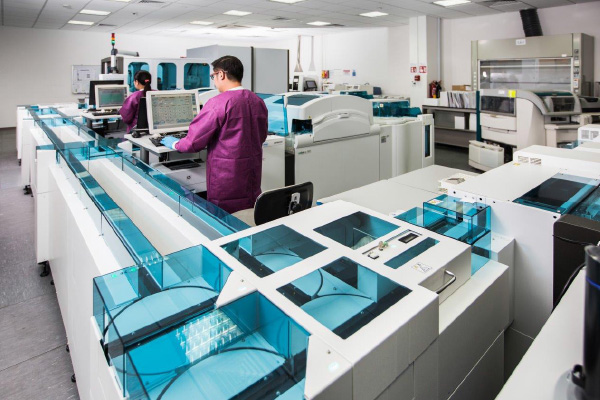 Deliberating on the future of diagnostics in India
The occurrence of various health issues has been amplified with the global pandemic. The world is still reeling from the aftermath of this deadly virus coupled with other daunting health challenges. Preparing for the Future Opportunities are flourishing for inventors, entrepreneurs, researchers and industry to come together to co-create an industry of advanced diagnostics and new health technologies. Embracing an open innovation mindset can amplify the reach of healthcare professionals to benefit a broad population.
To advance this mandate, more than 43 speakers shared their views, thoughts and ideas during 8 invigorating sessions and through industry and scientific presentations at the third edition of the Elets Diagnostics Leadership Summit.
The two-day summit saw discussions revolve around the "need for accreditation to ensure quality testing and results"; 'CBC+ESR for chronic disease patient care – changing cost and turnaround time dynamics'; "New Age Diagnostics for Infectious Diseases: New Platforms, Technologies and Testing Solutions"; "Laboratory Automation Market Role, Scope and Opportunities to Improve Diagnostic Operations Management"; "Digitization and IoT to Accelerate the Pace of Innovation in Diagnostics"; "Need for a concrete framework in the co-creation of a futuristic diagnostic sector"; "Antimicrobial Resistance (AMR) – Use of New Technologies" and "Focus on Accreditation and Quality for Improved Diagnostics".
The need for accreditation was echoed by panelists throughout the two days of discussions. Along with this, changing technology trends have also attracted a lot of attention. Dr. Smita Hiras Sudke, Laboratory Manager – Global Reference Laboratory and Zonal Technical Lead – Telangana, Apollo Diagnostics said that everyone is looking for reports at a faster rate and automation is really helpful in enabling this. Dr. Sanjay Arora, MD and Founder of Suburban Diagnostics, shared that CBC is the most common test and has now become universal. He added that a lot more automation is going on in ESR testing.
The session on 'Role, Scope and Opportunities in the Laboratory Automation Market to Improve Diagnostic Operations Management' was moderated by Indranil Roy Choudhury, Chief Operating Officer, Apex Kidney Care Pvt Ltd. He shared that automation in healthcare, especially in diagnostics, reduces errors, improves efficiency and improves operations. He further added that as we move towards automation and a more technology-driven diagnostic industry, the government should consider reducing import duties on diagnostic equipment and technology.
Sukrut Jobanputra, CEO and Executive Director Labassure said that without automation, we could not have survived the COVID scenario. He claimed that sometimes it feels like automation compromises your flexibility to deal with variability and in terms of quality we also have to balance automation against non-automated procedures. He added that we need to realize that just with automation, we are not guaranteed to be more effective, more efficient and better.
Dr Sarjana Dutt, Director – Molecular Biology and Cytogenetics, PathKind Diagnostics (P) Ltd said automation is not only at the instrument level, but also at the software level. She further asserted that automation will definitely reduce TAT, increase efficiency and reduce error rate. However, only if we decide, automating which part of work scheduling would bring the most benefits.
Doctor Geeta Chopra, Head of Laboratories and Technical Operations, North SBU, Metropolis Healthcare Limited said that there are three phases – pre-analytical, analytical and post-analytical and that the pre-analytical phase occupies 60% of the TAT. The use of online registrations, barcodes, etc. can be encouraged. to reduce time and logistics also needs to be improved.
Dr Leena Appicatlaa, Head of Labs, HCG Hospitals (Pan India) explained that labs can opt for a cloud-based system/software that not only solves data storage issues but also helps in reducing costs. Asked if automation kills jobs, she said no, but added that automation creates a new kind of job and we need to be updated and upgraded for those opportunities.
Dr Shelly Mahajan, Laboratory Director and Clinical Lead – Genomics, CARINGdx Laboratory Director and Pathologist, Mahajan Diagnostics, Mahajan Imaging said that we are already advanced in automation in laboratories and I think there is still room for more. She affirmed that we practice in a world with an ever-changing need to provide the best. I think we are going in the right direction. And automation does not mean an alternative to manpower but to facilitate their work.
The session on "Digitization and IoT to Accelerate the Pace of Innovation in Diagnostics" had an all-female panel that deliberated on how digitization changes diagnosis. countryside.
Dr Jatinder Bhatia, Director of 360 Diagnostic & Health Services Pvt Ltd, shared that over the past 2 years, digitization has been widely adopted in the healthcare sector. It has also helped reduce the cost of testing and a test that was done at Rs 1000 earlier is possible at a cost of Rs 100 today.
Doctor Barnali Das, Consultant in Laboratory Medicine, Executive Member of Kokilaben Dhirubhai Ambani Hospital, Scientific Division of IFCC and President of Indian Section of AACC, CAP Inspector and Assessor of NABL, said that digitization has enabled d Develop strategies and guidelines for the integration of all stakeholders in the diagnostic sector and its operations. She added that digitization has not only reduced human error, streamlined lab processes and management, but also helped generate more revenue.
Dr (Prof) Group Captain Renu Madan (Retd), Head of Department of Pathology and Laboratory Medicine at Venkateshwar Hospital affirmed that we can put our laboratory and testing at our fingertips through technology. She also shared that when we have big data, we also have a big responsibility to protect it and how IoT is going to be the future of the world. Not just for the healthcare industry, but also for other industries.
Dr Sunita Kapoor, Director and Head of Laboratory, City X Ray & Scan Clinic Pvt. ltd. explained how inventory management and financial management were greatly optimized after digitizing processes and adopting laboratory information management systems.
Dr Anjali Bhutani, Director and Chief – Department of Laboratory Medicine, Max Super Specialty Hospital – Mohali said digitization and automation have increased laboratory productivity and efficiency. It also cut costs. Thanks to digitalization, we can manage every aspect of lab operations efficiently and hassle-free.
The session on 'Focus on Accreditation and quality for Enhanced Diagnostics' was moderated by Dr Ravi Gaur Senior Advisor Spice Health (Spice Jet Promoters Venture), Founder of Dr. G Path Labs, Co-Chair of Health Committee of CII Delhi Chapter, who shared that technology driven concepts such as QR code and Accreditation constitute today an important part of the health sector today.
Doctor Simi Bhatia, COO of SRL Reference Laboratory and Technical Director of the Network and Fortis Labs, said accreditation helps to strengthen quality and safety, and it also helps to promote the development of staff skills. It is intended for every process and is essential in terms of efficiency and quality.
Dr Neha Rathor, Consulting Microbiologist, Chief Quality Officer, HICC Chairman, QRG Medicare said enhanced diagnostics have been around for 15 years now. But with the advent of barcodes, enormous efficiency is achieved.
Dr Puneet Nigam, Senior Vice President of Medical and Quality Services and Head of Laboratory Services, Metropolis Healthcare Limited, North India, called for making accreditation user friendly. He praised the country's efforts to uphold accreditation, especially during Covid with a higher number of labs coming in and multiple numbers of diagnoses being made.
Dr Sunita Deshmukh, HOD Lab Sciences & Blood Bank, Paras Hospitals stated that accreditation involves a lot of documentation. So unless you're used to keeping records, you can't clear the audit.
Follow us and join us on Facebook, Twitter, LinkedIn, Elets video