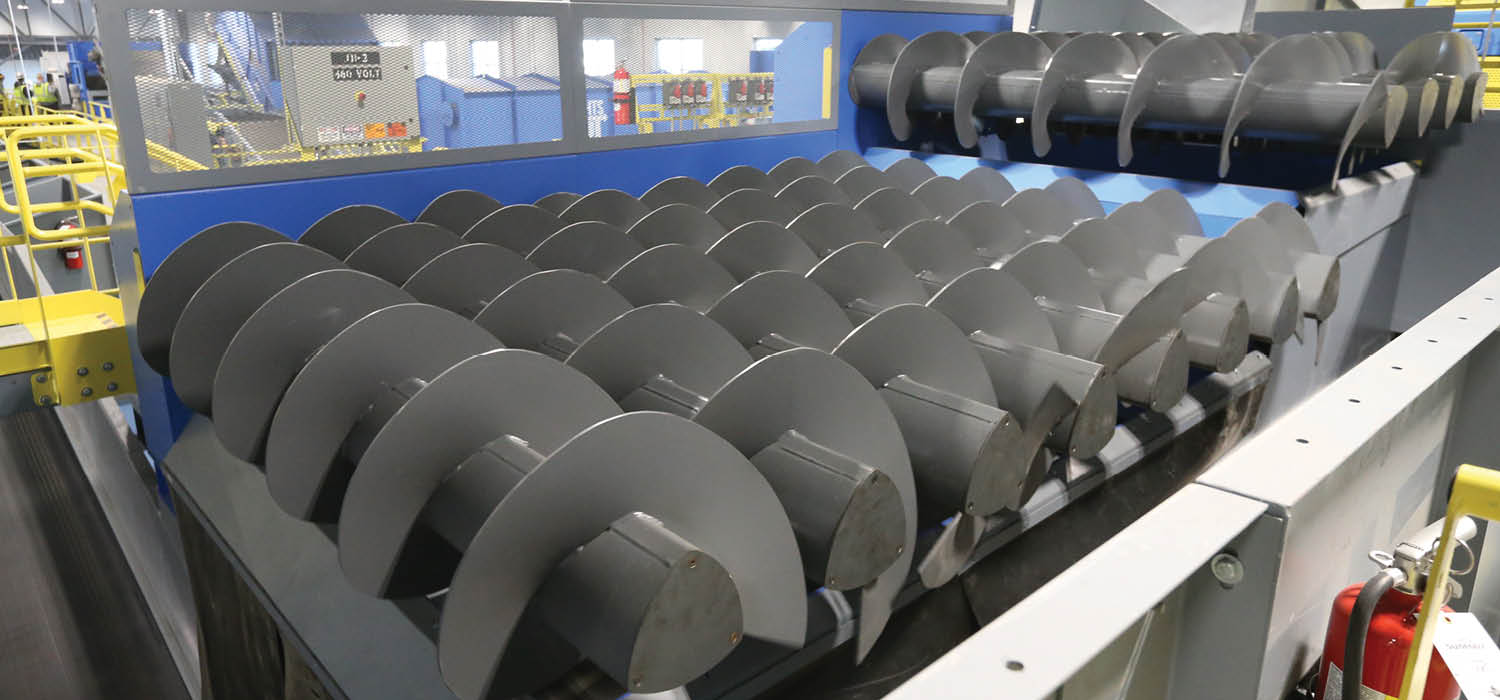 CP Group Receives NWRA Innovator of the Year Award
SAN DIEGO-
CP Group, located in San Diego, California, has been named NWRA's 2022 Innovator of the Year for the patented OCC Auger Screen. The award recognizes "recycling equipment designers and manufacturers who successfully challenge and advance recycling industry operations. It celebrates innovation in design and manufacturing that increases the effectiveness or efficiency of recycling equipment and operations".
The OCC Auger Screen is a non-round anti-wrap and anti-jam auger screen that does not need to be pre-sorted and creates a finished OCC product. Because the screen is cantilevered, all packaging material unscrews at the end, making it very low maintenance with minimal cleaning required. The screen splits the smaller stream of material so that sorters see only the larger stream, which improves grader safety by reducing exposure to sharp objects. The patented non-round attribute of auger flights creates the agitation necessary to produce a clean OCC product.
The prototype machine design was completed in 2017 and the first machine was manufactured in 2019. After months of testing, this prototype machine was installed in the Waste Connections Ecosort facility in Eugene, OR, which processes the commercial material and still works today.
Over the past several years, CP has invested in its production capacity to meet growing demand. Over several years of research, CP purchased a specialized machine with proprietary coiling technology.
With this specialized flight training machine and CP's manufacturing capabilities, CP is able to fulfill orders for Auger screens in-house without any outsourcing. This includes the production of the OCC Auger Screen's patented non-round auger which creates the material agitation needed to produce a clean OCC end product.
The first single residential MRF using a non-round OCC auger screen for direct and final screening of OCC materials began operation in late 2021. The Metro Waste Authority (MWA) MRF in Des Moines, IA is the North America's first high-volume, single-stream MRF to operate without a pre-sort or post-sort station of any kind – all off-schedule material removal is performed at quality control stations or is type system negative – representing a 100% reduction in manpower dedicated to non-material program. This is due to the innovation of the OCC auger screen combined with the CP primary auger screen.
"MWA is the first single-stream processor in the world to adopt and implement the OCC Auger Screen. The screen, located at the front of the system, captures more material, decreases contamination, significantly reduces maintenance downtime and eliminates pre-sorting, making the process safer and much more efficient," said Michael McCoy, executive director of the Metro Waste Authority.
It is a landmark MRF that brings the entire industry one step closer to full automation, while reducing labor and downtime caused by the challenges of traditional presorts.
"The OCC Auger Screen is truly the first innovation of its kind that lends itself to the next phase of MRF process evolution and automation. It's the catalyst for the MRF of the future by eliminating presortation and enabling greater automation," said Ashley Davis, Director of Sales and Marketing, CP Group.
Several OCC auger screens are currently in production with even more being tendered. CP thanks the NWRA for this prestigious award which recognizes the value that CP and this machine have brought to the industry.
###
ABOUT CP GROUP
CP Group is an OEM specializing in the engineering, manufacturing, installation and service of material recovery facilities. CP Group, comprised of CP Manufacturing, Krause Manufacturing, MSS, Inc., and Advanced MRF, offers award-winning recycling system design, manufacturing, modernization, auditing, and consulting services. CP Group provides turnkey solutions for mixed waste, residential, commercial and industrial recycling, construction and demolition and e-waste applications. CP Group is known for its superior engineering and equipment and has been providing solutions to the waste industry since 1977.
ABOUT THE NWRA
The National Waste & Recycling Association (NWRA) represents the private sector waste management and recycling services industry. Association members operate in all 50 states and include companies that manage waste, recycling and medical waste, equipment manufacturers and distributors, and various other service providers.