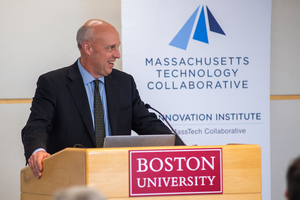 Boston University will open a new robotics lab to
It's a "game room" where Boston University students operate robots on the ground and in the air. It is a "brain" space to search for robots that think. It's a miniaturized city to test autonomous mini-vehicles on the road. This is a field in which to work on flexible medical robots that save lives and do not require motors or rigid parts.
BU undergraduate and master's students, hitherto largely excluded from the confined space of the University's robotics lab, will now be able to explore the world of robotics in a new lab in the College of Engineering. The $8.8 million, 2,000 square foot Robotics and Autonomous Systems Education and Innovation Center (RASTIC) will open in the summer of 2023.
It will be funded 50-50 by the University and the Massachusetts Technology Collaborative (MassTech), a public agency supporting the state's technology sector. Mike Kennealy, Massachusetts Housing and Economic Development Secretary, announced the grant at a May 4 press conference at the BU Photonics Center, flanked by university and state leaders including Robert A. Brown , President of BU, and Kenneth Lutchen, Dean of BU's College of Engineering (ENG).
"The new tools we are investing in today," said Kennealy, "will allow students to design and launch their own R&D projects, and for businesses in the region, it will create a neutral research-focused space. robotics and autonomous solutions, and work with BU students and faculty to design, prototype and test new devices.He said the lab will also accommodate K-12 students in an academics program. in technology.
"It's really, really good work and really important work," he said. "It's a fabulous example of that work, and it's really critical to the future of our state in so many ways…We need to continue to be among the most innovative places in the world."
Brown called the lab "a perfect illustration of what happens when this kind of imaginative leadership force" in academia and industry "comes together with a state that has the vision and foresight to sustain the kind of innovation that we do". He joked that Kennealy, who once worked in private equity, "knows something about betting, which he does now."
MassTech awarded about 10 such grants from a pool of 26 applicants, said Pat Larkin, director of the MassTech Institute for Innovation. RASTIC "clearly reached the top," he said, and "we felt like we scored on a lot of metrics that are important to us."
With RASTIC, BU will more than quadruple its robotics masters students, Larkin said, bolstering Massachusetts' competitiveness with rivals from Silicon Valley to China: "We have a real appetite to address the talent challenges that exist in this state and that are critical to the future of our technology and innovation economy… The number one constraint in every emerging industry we work with in Massachusetts is human capital to be developed on existing assets.
"We anticipate that the students who graduate from BU RASTIC will be the true innovators of the future," he said. "They will gain experience there that will inspire new ideas, new innovations, new opportunities for start-ups and the creation of new businesses in the state.
"The Commonwealth has a robust and globally significant robotics sector," Larkin added. "And developing capabilities on both the tech side and the talent side is really fueling the flywheel in Massachusetts for robotics."
He said the BU team is expected to help take Massachusetts' robotics cluster "to the next level."
Ioannis Paschalidis, ENG Professor Emeritus of Engineering and Computing and Data Science, wrote the RASTIC proposal that won the grant along with Sean Andersson, ENG Professor of Mechanical and Systems Engineering. (Paschalidis heads BU's Center for Information and Systems Engineering, the organizational headquarters of RASTIC.) BU, he said. But "we have undergraduate students in electrical engineering and mechanical engineering, [and] there is no capacity there" for them or for masters students.
In particular, says Paschalidis, ENG's master's program in Robotics and Autonomous Systems, which has an experiential component, receives about 300 applications a year, but can only select about 20. "We don't have the capacity to support many of these projects," he says. "We need a place where students can come in, engage, industry can come in and be affiliate sponsors of specific projects that masters and undergraduates can do.
A student in this program, Nash Elder (ENG'23), agrees. He works with origami-inspired folding robots, and "having the means to manufacture hardware, access computing-backed software, and collaborate with other students is an empowering resource," said he declared. "I could really see space as a central hub for BU roboticists."
BU will hire a professor to lead RASTIC, which will also have space for BU researchers with robotics grants to translate their ideas into practical applications. Among the areas that researchers and students will test in the new lab, says Paschalidis, are these:
The "playroom" will have motion-capture cameras deployed to track the location of robots on the ground and send them navigational information, while nets will prevent the drones being tested from crashing into walls or people.
The artificial intelligence zone, or "brain" space, will test next-generation autonomous robots that "will be able to think and understand where they are," says Pachalidis. Applications include robots for search and rescue missions, autonomous vehicles and package delivery drones.
The miniaturized city will have buildings, traffic lights, roads and spins, testing vehicles with self-driving systems to see how they navigate. "All of these things can be done at this miniature level," he says, "and then taken and used in a real city."
Soft robots – made without rigid materials and typically controlled by airflow through valves rather than electricity and motors – with medical applications, such as penetrating organs or veins during surgery.
RASTIC builds on a long-standing collaboration between BU and the Commonwealth, Larkin said, including the construction in Holyoke, along with several other partners, of the Massachusetts Green High Performance Computing Center.
"Boston University has been a good partner of the state for many years," he said. "Key staff at BU – they understand the mission of the state. These investments are aimed at growing the economy…Our university infrastructure truly represents our comparative advantage as a global economy.
"We don't grow corn. We have no oil. We have people.
---