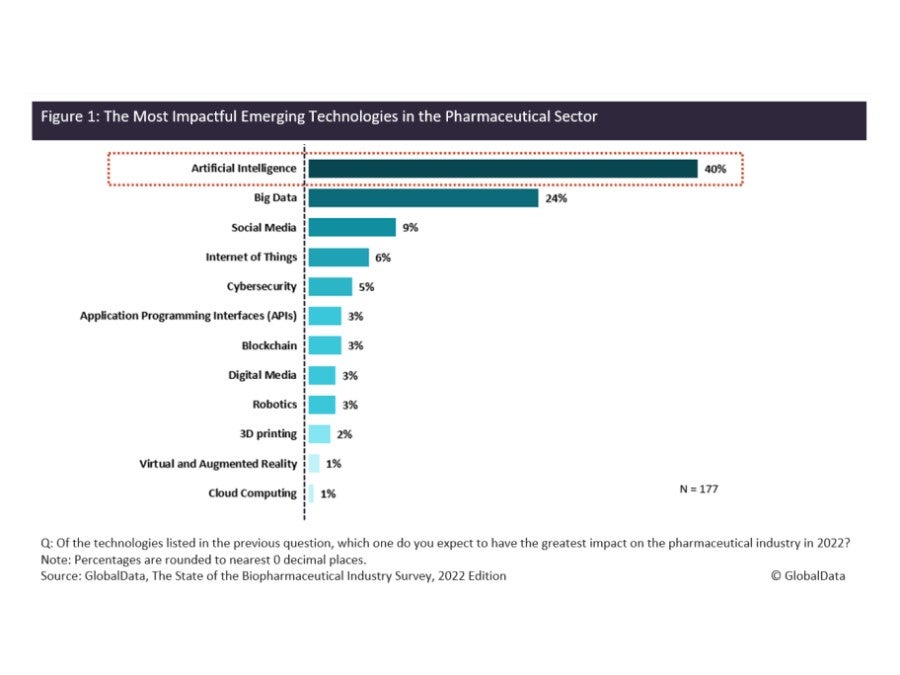 AI will become the most disruptive technology in the pharmaceutical sector in 2022
Although it's still years away from showing its full potential, artificial intelligence (AI) stands out as a versatile solution to address the challenges facing the entire pharmaceutical value chain. For example, in drug discovery and development, AI can reduce the time to identify drug targets; in manufacturing, enable intelligent process automation and optimize predictive maintenance; in the supply chain, improve demand forecasting and inventory management; and in marketing and sales, facilitating targeted marketing campaigns.
According to a GlobalData "State of the Biopharmaceutical Industry" survey, conducted among pharmaceutical industry professionals from November 17, 2021 to December 17, 2021, 40% of 177 total respondents named AI as the technology that is expected to have the greatest impact on the pharmaceutical industry in 2022 (Figure 1). The pharmaceutical industry is data driven. With the ever-increasing volume and complexity of data generated by the industry, the need to analyze information will continue to pose challenges that can best be solved by AI.
In another GlobalData survey, "Digital Transformation and Emerging Technology in the Healthcare Industry," conducted by healthcare professionals between September 22, 2021 and October 26, 2021, 41% of 131 total respondents expected services would benefit from R&D making the most of digitization efforts in the pharmaceutical sector (Figure 2). The pharmaceutical industry devotes significant revenues to R&D activities which do not produce the expected returns. As innovations become an integral part of the pharmaceutical industry, emerging technologies are becoming a key tool for streamlining operating models and improving R&D productivity and efficiency.
AI has already shown that it can bring significant improvements in productivity and increase the efficiency of drug development processes. In January 2020, AI actors Exscientia and Sumitomo Dainippon announced the first AI-engineered compound, DSP-1181, to enter a Phase I clinical trial for obsessive-compulsive disorder, taking less than 12 months from initial screening and the end of preclinical testing. The second molecule resulting from this partnership, DSP-0038, for Alzheimer's disease psychosis, entered clinical trials in May 2021. In April 2020, BenevolentAI identified Eli Lilly's baricitinib as a potential treatment for Covid-19 in just three days. This drug received Emergency Use Authorization (EUA) from the FDA in November 2020. In April 2021, Exscientia and Evotec announced a Phase I trial for the first AI-designed immuno-oncology drug, an A2a receptor antagonist for the treatment of advanced solid tumors. .
Partnerships between AI technology providers and pharmaceutical companies will continue to increase and we should definitely see more of these collaborations in the future. Less than a month into 2022, we've already seen Sanofi strike a deal with Exscientia to develop treatments in oncology and immunology, and BenevolentAI and AstraZeneca agree to extend their drug discovery partnership. AI-based drugs to include systemic lupus erythematosus (SLE) and the heart. failure (HF). This indicates that the role of AI in the drug discovery and development process will only grow.